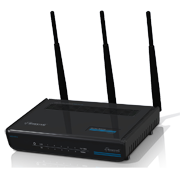 Featuring the brand new Hawking HD45X WiFi repeater/range extender, now available here at RepeaterStore! The Hi-Gain Dual-Band Wireless-N Range Extender repeats wireless signals from any access point or router with 2.4GHz or 5.0GHz signal from an existing network. Compatible with 802.11a/ b/g/n networks, the HD45X is an ideal solution to upgrade and improve your wireless experience.  It's an essential component to accommodate the growing demand for high-definition content, like streaming high definition contents, online gaming, etc. The HD45X doubles the size of your Wi-Fi network at up to 450Mbps, 3X faster than standard Wireless-N Range Extender in the Market.
THE BENEFITS OF DUAL-BAND
The 2.4GHz is the most commonly used wireless bandwidth. It also has a limited number of bandwidth for multiple activities, such as sending emails, video chatting, streaming movies, playing games, etc. In addition, the same 2.4GHz frequency is also shared between different devices (i.e. laptops, tablets, smartphones, TV, gaming consoles, and other common household devices like microwaves and cordless phones). This causes interference and major backlog with your online activities. The Dual-Band technology provides maximum flexibility for your Dual-Band compatible devices to connect to the popular 2.4GHz frequency and also off-load traffic to a faster less-crowded 5.0GHz frequency.
While the 5.0GHz runs at a higher throughput rate, its wireless strength is limited.  The HD45X increases the signal strength and provides doubles the wireless distance for you dual-band network. As a result, it provides a stronger and more solid wireless connection to improve overall performance, such as improving the data transfer speed and reducing lag while streaming or downloading multimedia content (video, music, etc.).  Seamless Roaming is a unique feature that mirrors existing network settings for ultimate mobility with all your Wi-Fi devices.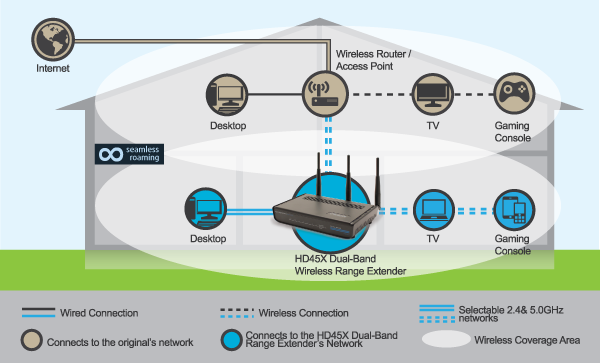 In addition, Hawking Dual-Band Wireless-N Range Extender promotes data speeds of up to 300Mbps for 2.4GHz frequencies and 450Mbps for 5.0GHz frequencies. This means users can have more bandwidth and transfer more files in less time.

EASY UPGRADE FOR LONG RANGE ENVIRONMENTS
The HD45X combines Dual-Band technology with removable external antennas to upgrade your overall wireless experience.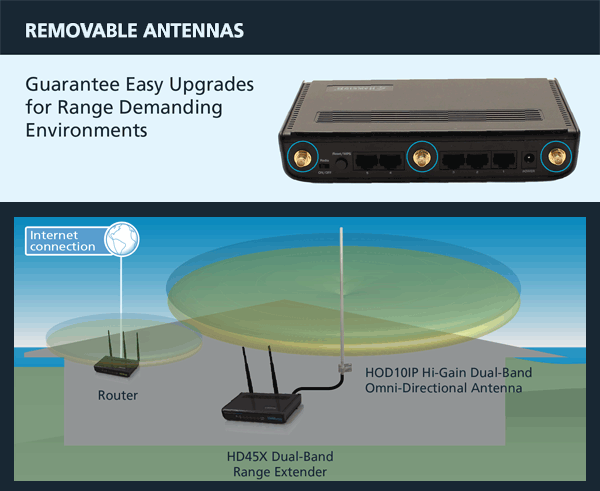 Head on over to our product page to see the product details and installation manual.