Good news for users with iPhone 4 reception problems! New cell phone boosters from RepeaterStore will amplify weak AT&T signals that exist in a car or home.
The iBooster 805201 by Wilson Electronics is an all-in-one signal booster that amplifies the incoming and outgoing AT&T signal for original iPhone, iPhone 3G, 3GS and iPhone 4.  Your iPhone sits in the cradle-like booster and, while charging your phone, amplifies both voice and 3G data signals. The iBooster allows your iPhone to function as if it's operating in a good service area. We've seen dramatic increases in download speed and voice reception when using the iBooster.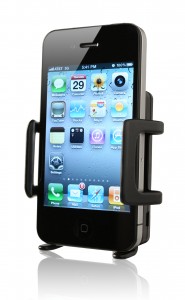 The Wilson Sleek (815226) is a more universal booster that comes as plug-and-play kit: you can enjoy improved reception in minutes! For both of these cradle-type kits a small magnetic antenna is placed on the roof of your car or, when using the Sleek home/office kit (#859970), sticks to the window of your home/office.
For those of you who enjoy a wireless experience, RepeaterStore has many options to fit your needs. A good start would be the Wi-Ex zBoost YX545 SOHO Dual Band Repeater Kit. The YX545 improves standard voice calls but also 3G data & internet browsing, exactly what the iPhone 4 does. It will wirelessly cover up to 2500 square feet while supporting up to 20 users simultaneously with no need to connect to your phone to improve reception. Another excellent kit option is the Wilson 801262 DB Pro Dual Band 62dB Amplifier and kit. The amplifier has 62dB of gain, and when purchased as a full kit can cover up to 5,000 sq ft.
Whether you are desperately looking for improved iPhone 4 reception, or need better signal strength with any other cell phone/ smartphone, we can help! Browse our website or give us a call at (800) 761 3041 to learn about the many signal booster and cell phone amplifiers we have available! You can also contact us by email with any questions you might have regarding cell phone signal issues and repeaters to eliminate dropped calls!