Are you traveling from a Northern State to southern climes in the foreseeable future?
Long distances on the highway can be tedious and being out of touch because of poor cell signal can make things worse. You can be prepared to be in constant contact with family, friends or anyone else with a Mobile Repeater kit from the Repeaterstore.com. With a simple installation, you can have a better signal along your entire route.
Some of the options you'll want to consider will be: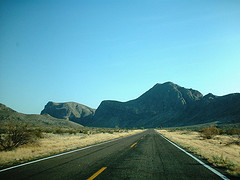 Do you want to plug in your phone for best reception
Do you want to have a wireless situation so you and others in the vehicle can use their phones or data cards
Are the signal areas you will be passing through exceptionally weak, i.e. mountainous or extremely remote
These varying situations can be dealt with by getting different mobile kits or by building a custom kit. There are a variety of amplifiers and antennas for mobile systems.
Choose one of the complete kits available if you are a traveler with basic needs and requirements, like being on the open road going from town to town or, if you are traveling in a larger vehicle like an RV, you can get one of the larger mobile repeater kits.
Wilson Electronics makes several units to cover your needs:
811210Â  SignalBoost – a unit that attaches to your phone or data card with a Velcro patch
801230 Mini-SignalBoost – a low wattage wireless kit
801241 SignalBoost Pro – a more powerful wireless kit with multiple power supplies available
811201Â  Direct Connect – kit with a cable connected to your phone antenna port
801201 Wireless Vehicle Amplifier -Â  the most powerful Wilson vehicle amplifier
815226Â  Sleek - Wilson's newest amplifier kit where you place your phone in a cradle and use an external headset or Bluetooth
For the RV traveler  these Wilson kits work very well: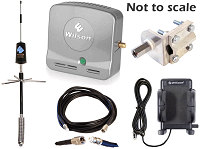 841233Â  Mini-SignalBoost RV Kit
841295Â  Ambulance and RV Kit for larger vehicles
Take advantage of one of these mobile repeater kits to stay in touch throughout your trip for safety and peace of mind!
Please contact us at 800-761-3041 for help in determining the best solution to your traveling needs.
Be safe and enjoy the sunshine!