Many times cellular signal is pretty good at a dock, along the coast or up and down a river. Get a few miles away from the coast or riverbank and you have weak, sometimes non-existent cellular reception. This spotty reception can be rectified with the installation of a Repeater Kit for a boat, barge or yacht.
As a marine vessel departs a port or dock area, the weak Cellular/PCS signal can drop off within a few hundred yards or a couple of miles. A Cellular Repeater kit uses an antenna mounted above the bridge or mast of your boat or ship. This antenna is connected through coax cable to an amplifier which receives and then boosts this signal to output it through an interior antenna within the cabin, bridge, galley or state rooms below. Your phone would be used as you normally would to make and receive calls within this 'signal area' and there is no setup configuration needed. The Marine Repeater kit will also boost signal to broadband USB modems used to get internet service.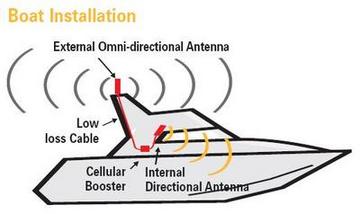 Interior antennas can range from a cradle you place your phone into, to a panel antenna mounted on a wall that 'shoots' cellular signal down a hall or into a broad area like a galley.  Our boosters work for all carriers (dual-band) but a specific version would be needed for Nextel phones (IDEN).
RepeaterStore has two very strong options for Marine or Boat Repeater Kits.
The Wilson 801245 with an omni-directional dome internal antenna.
Or, the Digital Antenna DA4KSBR-50M kit with a directional panel interior antenna.
Don't leave your family, friends or business associates ashore when you head out to enjoy the local waterways. Stay connected with a Marine Repeater Kit from Repeaterstore.com!