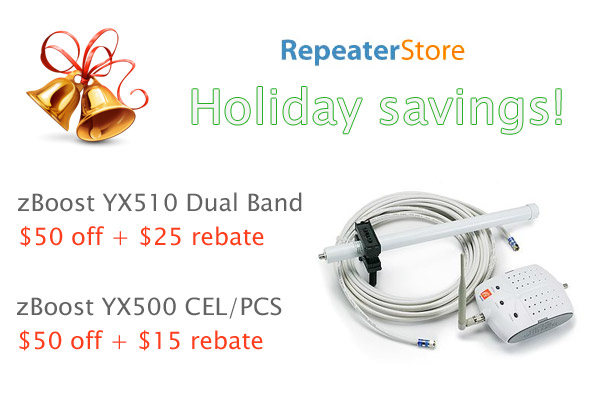 Enjoy big savings on our Most Popular Repeater Kits until 12/31/09. Get a $50 instant savings and a $25 mail in rebate on the Wi Ex zBoost YX510 dual band repeater kit.  The zBoost YX510 has 55db of gain and gives you up to 2500 sq. ft. of coverage. Because it is Dual Band it will work with all cellular carriers except Nextel.
We're also offering special discounts on our single band zBoost amplifiers. If your carrier operates on a single band you can use the Cellular 800/850 mhz band or the  PCS 1900 mhz band you can save with our Wi Ex zBoost YX500-CEL or YX500-PCS repeater kits. For a limited time only, we're offering a $15 mail-in rebate on each of these systems, on top of our $50 instant discount!  Everything necessary to improve the cellular signal in an area up to 2500 sq. ft. is included.
Make your holiday money reward you all year long with a Cell Phone Amplifier from Repeaterstore.com. But  hurry, these great savings end December 31, 2009!
Happy Holidays from all of us at Repeaterstore!