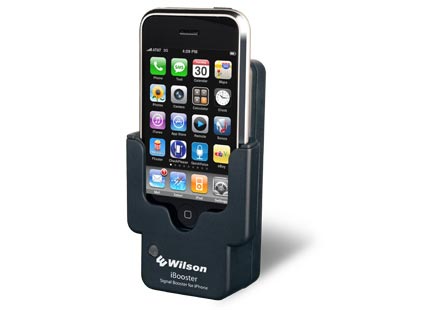 The new Wilson Electronics iBooster – designed specifically for use with the Apple iPhone – was announced at this years Consumer Electronics Show in Las Vegas. The Wilson iBooster provides improved signal while simultaneously charging the iPhone, and is designed for in-vehicle use.
The iBooster is compatible with both the iPhone and iPhone 3G, and improves signal for both 2G voice calls and 3G data transfers. The product will be available as a complete kit, including an all-in-one amplifier/charger cradle, a magnet-mount antenna, and a cigarette lighter power adapter. The included cradle perfectly fits the iPhone, while leaving enough room for most common protector cases.
The innards of the amplifier are based on the Wilson SignalBoost Pro 801240, which provides 40dB of uplink and downlink gain.
The product is expected to begin shipping in March 2009.
Find more details on our website: Wilson 805201 iBooster for iPhone
Video by Wilson Electronics: