Wilson's new SignalBoost Pro Amplifier Kit was honored at the CTIA Emerging Technology (E-Tech) 2008 Awards. In the Mobile Consumer Electronics – Fashion & Lifestyle division, the SignalBoost Pro earned 2nd place.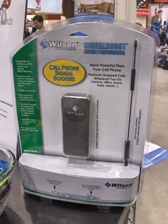 Pictured here, the new SignalBoost Pro is a dual-band repeater which works with all carriers (except Nextel). It plugs into a USB port, which makes it exceptionally portable. It's ideal for a small office environment. Wilson are also releasing an in-car version, the 801241, which likewise uses a USB port.
The SignalBoost Pro comes with a high-gain antenna. More technical specifications will be available very soon. It is expected to be released in the 2nd quarter of 2008 and we are looking forward to featuring it here at RepeaterStore.com.