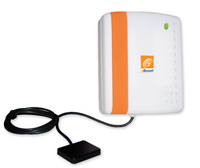 About a month ago we wrote about Wi-Ex's announcement of two new repeaters: the zBoost zP Personal and the zBoost zP Wireless. At the time, Wi-Ex didn't release any tech specs, which left us to wonder how effective a sub-$100 repeater could really be.
Courtesy of Wi-Ex we are now able to reveal that the zBoost zP repeater will have +31 dB gain in the wired "zP Personal" version and +43 dB total system gain in the "zP Wireless" version (measured @ 800 MHz). The difference between the two is down to the gain of the internal antenna that is included as part of the zP Wireless version.
Now, it's always very unreliable to compare system gains for repeaters from different manufacturers, so to put it in perspective within Wi-Ex's existing product range, the YX-200 Wireless Vehicle Repeater has a total system gain quoted as +50 dB. This is a difference in system gain of +7 dB between the two wireless repeaters, but taking into account the difference in price tag of around $130, this shows the zP repeater in a reasonably favorable light. However, there is a limit to how much you can learn from a product's specifications and a more telling test will be when we put this repeater into practice in a real world situation. We will be doing this soon, hopefully before the zP's scheduled release, which is rumored to be around mid-June.
Regardless, the zboost zP was never about raw amplifier performance and perhaps the most important specs to be released are the price: $99 for the wired version and $169 for the wireless version, and the weight: 10 Oz, or slightly more than half a pound. These figures represent significant reductions when compared with any other repeater available on the market. With dimensions of 4 x 5 x 1.3 inches, the zP is a truly portable repeater system. To have crammed a dual band repeater (i.e. a repeater compatible with all cellular networks other than Nextel) into such as small package is a remarkable achievement. The real question is whether Wi-Ex have managed to achieve this portability without sacrificing performance. On this, the jury is still out.
The full technical specifications are now available on our zP product page: Wi-Ex zBoost zP Repeater